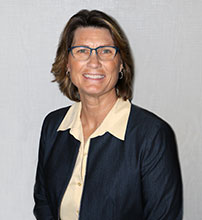 President's Message
Summer has finally arrived and with it some relief from approximately 15 months of health restrictions. We are choosing to err on the side of caution and continue to have some health protocols in place on our campuses, but are looking forward to having our classrooms fill to capacity again.
The Academy has been busy throughout the months, working diligently to continue to provide support, services and training to our current and aspiring public safety professionals. This has been a challenging time as well as an opportunity for reflection. As we begin the 2021-22 fiscal year, we look forward to the continued diversity, equity and inclusion evolution of public safety as it relates to recruitment, training, education, retention, and use of technology.
We have been developing and implementing new curriculum, new educational and career pathways, and are looking for new ways to improve student performance and their ability to serve their respective communities. We have expanded our offerings to include support of Park Ranger training, hosted drone training courses, as well as delivering the newest State Fire Training Firefighter curriculum covering both Firefighter I and II to ensure our students have the greatest opportunity to secure gainful employment. We continue to offer Police Academies at all three of our sites (Coyote Valley, MPC and CSM) as well as Dispatch Academies, Field Training Officer courses, ICI courses, Supervisory and Management courses, and State Fire Training promotional track courses throughout the region.
South Bay will continue to engage at the State level to address course development and delivery, funding, and legislative changes that will have an impact on public safety training and education. Our involvement with the Bay Region Joint Venture has identified many regional needs, and assisted in finding creative and collaborative ways to address them. The work is far from over, and South Bay is in it for the long haul.
If you haven't been to one of our campuses recently, we invite you to stop by and see the changes we have implemented, as well as take a look at the quality recruits on campus.
As always, we thank our agency partners for their steadfast support and look forward to working together to maintain and enhance the quality of public safety professionals in the Bay Area and the State.
Linda Vaughn
President/CEO
South Bay Regional Public Safety Training Consortium