This course will prepare individuals to render prehospital basic life support at the scene of an emergency, during transport of the sick and injured, or during interfacility transfer within an organized emergency medical services system. The course content meets the objectives contained in the U.S. Department of Transportation National EMS Education Standards and trains the participant to become competent in the EMT basic scope of practice.
The course consists of 180 hours of didactic and skills lab training, and 24 hours of supervised clinical experience, which exceeds the requirements for EMT-B in the State of California. Upon completion students will be prepared to pass the National Registry of Emergency Medical Technicians (NREMT) exam. Course fees include subscription to the online curriculum, textbook, and personal protective equipment.
Our instructors are all currently employed as EMTs or Paramedics and have decades of experience providing emergency medical services for fire departments, private ambulance companies, and hospital emergency departments.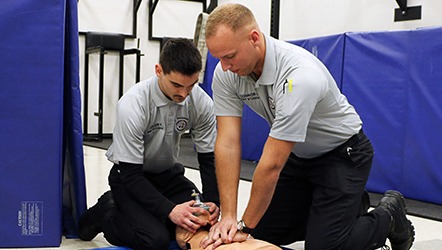 Requirements (must be met in order to register for this class)
You must be 18 years of age at the start of midterms (dates may vary; contact our front office, at 408-229-4299 for more information if you are under the age of 18)
You may not register for this course until you have submitted the Emergency Medical Technician Pre-Registration Form.
(*please note, the form will require you to upload the documents below)
Current Medical Insurance
Basic Life Support for the Healthcare Provider Card (must be valid through the end of the course) We will ONLY accept the following:

American Heart Association (BLS Provider Course Completion Card)

Test/vaccination record/results for:

Tuberculosis (TB) skin test (current = within six months prior to the start of class)
Current Tdap (current=within 10 years)*
Current MMR (Measles, Mumps and Rubella) vaccination (current = two doses in lifetime)*
Current Hepatitis B vaccination (current= three doses in lifetime or begin series prior to the start of class)
Current Varicella vaccination (current=two doses in lifetime)**
Flu shot (prior to start of class and only for winter courses that fall in November – March)
* If vaccination records are unavailable, a Positive Titer can be substituted for the MMR, Hep B, Tdap and Varicella.
** Varicella can also be verified by a documented history of chicken pox by a physician.
Upcoming Emergency Medical Technician Courses: