This full-time, 888-hour intensive course satisfies the California Commission on Peace Officer Standards and Training (POST) minimum training requirements for California entry-level peace officers. The course typically meets Monday – Friday, 8:00 a.m. – 5:00 p.m, is approximately six months in duration and is designed for employed or aspiring peace officer recruits who can dedicate their full attention and efforts towards completing the program. The full-time Intensive Academy requires a strong commitment by the recruits and their families. Upon completion the student can apply to police agencies as a Regular Peace Officer.
The Basic Police Academy course includes fundamental principles, procedures and techniques of law enforcement, including: Criminal Law, Patrol Procedures, Cultural Diversity, Investigative Procedures, Report Writing, Defensive Tactics, Firearms, Leadership, Ethics, Community Policing, Police Vehicle Operations, Traffic Enforcement, Accident Investigation, Handling Emotional Situations and First Aid/CPR. The course also includes a challenging physical conditioning requirement that will prepare academy students for police service.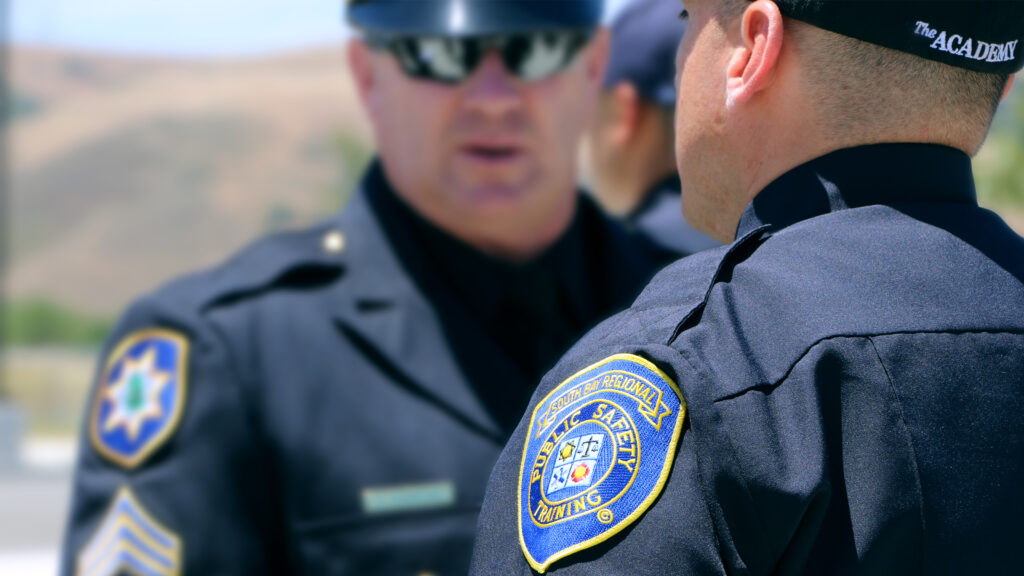 Prerequisites
Each Basic Police Academy applicant must:
Minimum Standards for Employment
The minimum selection standards for peace officers in California are set forth in Government Code Sections 1029 and 1031. Every California peace officer must:
Be free of any felony convictions;
Be a citizen of the United States or a permanent resident alien who is eligible for and has applied for citizenship (CHP officers must be US citizens at time of appointment);
Be at least 18 years of age;
Be fingerprinted for purposes of search of local, state, and national fingerprint files to disclose any criminal record;
Be of good moral character, as determined by a thorough background investigation;
Be a high school graduate, pass the General Education Development test or have attained a two-year or four-year degree from an accredited institution; and
Be found to be free from any physical, emotional, or mental condition which might adversely affect the exercise of the powers of a peace officer.
For more information visit the California Commission on Peace Officer Standards and Training (POST) Peace Officer Candidate Information web page.
More Information
Peace Officer Selection Process
POST Regular Basic Course
POST Learning Domain Workbooks
POST Training and Testing Specification
Upcoming Basic Police Academy Courses: